Let's take a look at how your support shaped 2021 for Heart House!
Happy New Year and let's reflect on a great 2021!
The incredible things that were accomplished in the last year at Heart House couldn't have happened without your support! Let's review on just a few of the many incredible ways you made an impact on Heart House students.
Career Day
In the spring, Heart House hosted its very own Career Day! The students were visited by many different professionals including a chef, photographer, teacher, play therapist, marketer, and much more. Students got to "interview" each one and get inspired on what their future career might look like.
New Classrooms
With a new space comes new energy that propelled the students into the fall semester. Over the spring and summer, Dwell with Dignity renovated the classrooms to create a more productive space and learning environment. Click on the picture of the Wildflower Café & Market to watch a video about the renovation!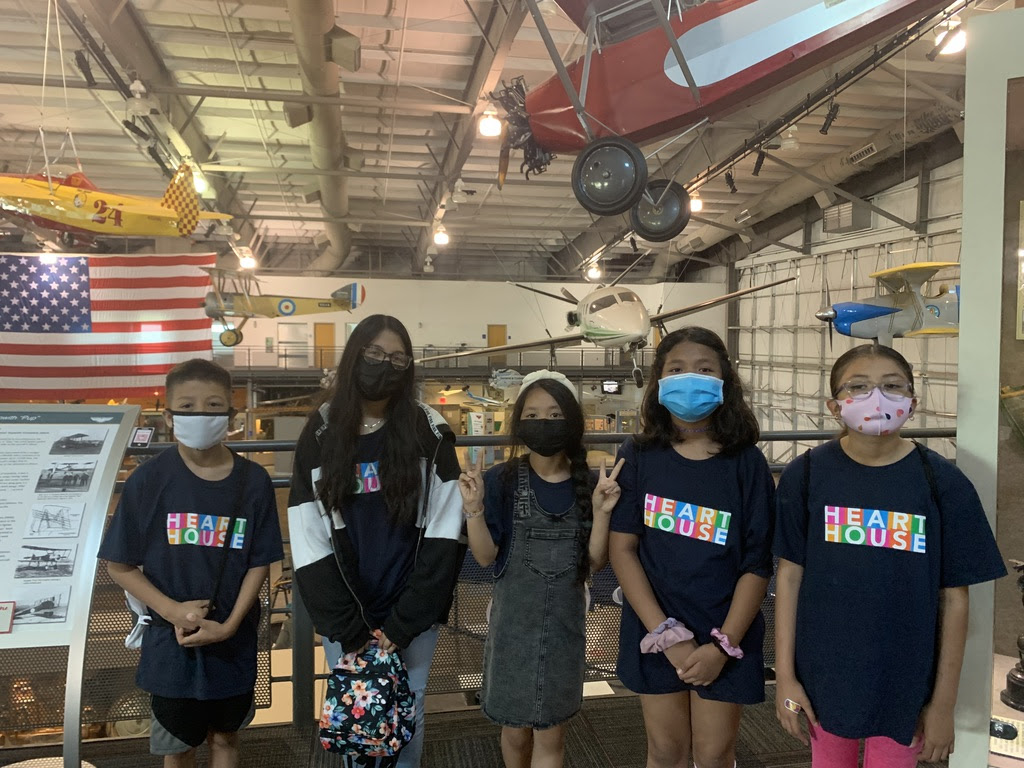 Field Trips
For the first time in two years, the students went on field trips again! Over the summer, they went to the Frontiers of Flight Museum, the Dallas Arboretum, and the Lake Highlands Splash Pad. The students loved being able to explore their community with their friends and teachers.
Cooking
To celebrate the end of summer, Chef Donny Sirisavath from Khao Noodle Shop came and taught the students about healthy choices. Together, they made vegetarian spring rolls with fresh vegetables and herbs – like mint – from Heart House's own Growing Garden.
New Teachers
This year brought three new teachers to Heart House! Kiersten Rood, the Wildflower (K-2nd) teacher; Manju Warrier, the Park Lane (3rd and 4th) teacher; and Hannah Monger, the Pineland (5th-8th) teacher. They have each brought new energy and fresh ideas into their classrooms.
Project X
Project X, a new program for Pineland (5th-8th), was launched! In just a few months, the students defined their core values, learned about the science of photography as well as how it's an art of storytelling, hosted their own photography show, honed their skills as they learned about the intricacies of a theme park, rode their first rollercoasters at Six Flags Over Texas, and explored food insecurity in their community. (Be sure to click on the "Welcome" sign below to see the amusement park video.)
Click the welcome banner to visit the Project X theme park!
---
With all these fun memories and new changes, one thing remained the same: Heart House made a difference in the lives of the students and their families.
100% of parents agree that their student is safe at Heart House
85% of parents agree their child is doing better in school because of Heart House
91% of students feel accepted at Heart House
81% of students learned something new at Heart House
97% of students showed growth in at least one category of literacy
86% of students attend daily
None of this could be possible without YOU!
---
Please consider starting your new year by contributing a monthly gift to Heart House. A $25 monthly gift helps keep the students engaged by providing classroom materials! Just click recurring donation below, and you'll be set up for all of 2022. Thank you!
We are sending positive thoughts for 2022 to be a great year for each of you. Please stay safe and healthy! Until next time – thanks for reading!