Heart House had a month filled with joy, laughter and love. We hope you did too!
Hearts Galore!
This Valentine's Day, all Heart House students thought about the special people in their lives — parents, teachers, and friends. Students then made Valentine's Day cards for those most important to them to show their love and appreciation. Such a fun day, filled with creativity, and love!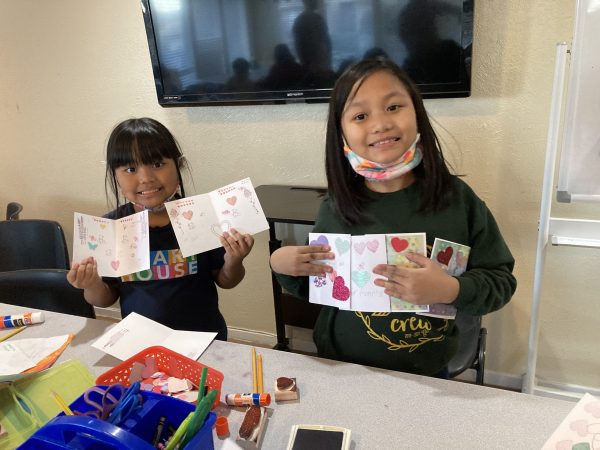 Project X
This month, Pineland students (5th-8th) explored different art mediums for Project X! Thanks to our friends at the DMA, students learned about woodcarving and printmaking — drawing designs on wood, carving them out using intricate woodcarving tools and creating prints! Students also learned about soft sculptures, even creating their own sculptures using different fabrics!
The wood panels that the students carved and painted were then used to build a bee hotel! In the next few weeks, the Pineland students will take care of the hotel, observing how bees use it for their survival needs, as a way to explore how public art can care for its environment.
---
DMA Field Trip
Art exploration is not complete without a visit to the museum! Pineland students loved learning about all the different exhibits and artists at the Dallas Museum of Art during their field trip this past Saturday. The "Rooted" exhibit, centered around people's relationship with the natural world, was especially impactful and one that the students looked forward to the most.
A huge thank you to the Dallas Museum of Art for the amazing workshops and for organizing this wonderful field trip! The students absolutely loved engaging with the exhibit and having the chance to create their own art with the help of DMA volunteers! 🙂
---
Community Project
What is a community? That's the question Wildflower (K-2nd) and Park Lane (3rd-4th) classes reflected on this month, naming the necessary elements that make up a community, such as schools, housing, hospitals, parks, and transportation. Then, students created their own communities using milk cartons, popsicle sticks, colored paper and lots of creativity! Check out the tall green tower by Brave!
---
Heart House's 2021 Annual Report is out now!
Click below to read more about your impact last year.
---
When you give, you are there for the students, providing a caring and supportive afterschool experience. Please consider a gift today!